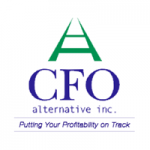 Bankers protect your cash and securities.  Accountants protect you from tax exposure.  Bookkeepers protect the integrity of your financial data.  But who is protecting your profitability?
As a small to medium sized enterprise, it can be difficult to maintain focus on the profitability of your business with day-to-day operations and new opportunities competing for your attention.  Most major corporations have a Chief Financial Officer (CFO) in their organizational structure to act as the financial steward for profitability protection.
CFO Alternative Inc. provides small- to mid-size firms with the financial expertise, tools, analysis and procedural support that big businesses enjoy, without the lofty CFO salary.  Our experienced and proven Chief Financial Officers can give you the financial data, direction and control you need to take your business to the next level.  From strategy validation to operational organization, CFO Alternative is your financial partner in protecting the health and profitability of your business for long-term growth and success.
By working with CFO Alternative Inc., you will enjoy the following benefits:
Financial stewardship, strategy validation and a plan for growth
Security in decision making to realize the full potential of the business
Financial control in the long-term success of the business
Stability in the operations of the business to stay on course
Find out more about our suite of services.